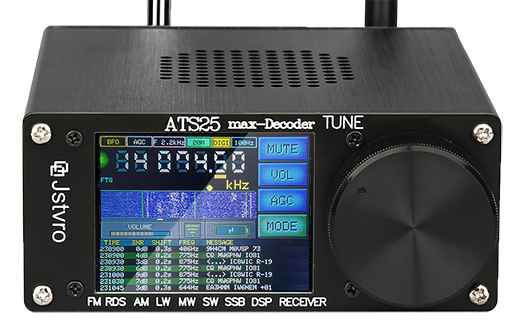 Amateur radio
receiver ATS25 max-Decoder
built-in decoder CW and DIGI

automatic antenna input switch

support for all firmware functions H-RADIO
---

Compact size 117x112x45 mm. Lightweight aluminum case of classic form for electronic equipment.

Color graphic screen 320 x 240 pixels with touch control and a large encoder handle.

All the necessary interfaces are on the back panel:
- BNC receiving antenna connector;
- SMA Wi-Fi antenna connector;
- 3.5mm headphone jack;
- Type-C connector for charging and connecting to a PC.

---

Up to 6 hours of operation without recharging. Built-in lithium battery with a capacity of 3000mAh.

Changing the brightness or turning off the screen completely for even more autonomy and reducing interference.

Large speaker with high-quality loud sound. Use headphones to listen to stereo programs on the FM broadcast band. The headphone wire is used as an FM antenna.

Automatic switching of the antenna input.

---

Frequency range:
132kHz - 30000kHz AM, SYNC, SSB, CW, DIGI;
64MHz - 108MHz FM, RDS.

Adjustable bandwidth from 500Hz to 6000Hz depending on the modulation.

Measurement of the received signal quality in real time and automatic search of broadcast stations based on the received data.

The minimum frequency setting step for SSB is 10Hz. Precise tuning separately for each amateur radio band using a BFO generator up to 1Hz.

Receiving RDS information about the station name, current program, type of radio station and local time. Support for regional standards RDS.

---





Lists of ranges according to standards and regional specifics. Division into broadcast and amateur radio bands.

Fast frequency input. Two fast switching VFO.

Unlimited memory of stations with grouping by receiving area. FM mode for quick switching between saved FM stations for a selected location.

Channel mode for CB band.

Retro scale with grouping of ranges according to reception conditions. Up-to-date information about the passage of waves from the Internet.

Range scanner with histogram display for fast detection of operating stations.

Extensive customization and customization options.

---

Decoding Morse code for the Latin alphabet and Cyrillic alphabet. Speed calculation.

Decoding of DIGI:
- RTTY (45.45 / 50 / 75 baud);
- FELD-HELL;
- FT4 and FT8.
Saving the decoded data to a file and sending it to a PC.
The possibility of expanding the list of digital communication standards.

Convenient adjustment to the signal using the waterfall indicator.

---

A complete set of everything you need to start using:
- receiver ATS25 max-Decoder;
- telescopic antenna;
- Wi-Fi antenna;
- cable USB;
- stylus;
- anti-slip feet;
- manual.

Packed in a cardboard box with foam inserts that protect the receiver during transportation.